Why should I attend Church?

WHY SHOULD YOU ATTEND CHURCH AND WHY ST. STEPHEN COULD BE FOR YOU

In the Bible, we are told to "Remember the Sabbath day and keep it holy". (Exodus 20:8) It is for this reason that we must donate one full day to the Lord. St. Stephen King of Hungary Catholic Church has services that fit into your busy schedule, as well as daily Masses during the week.

Sunday: 9:00AM - English
11:00AM-Hungarian

Christ was not to busy to save us: we should not be too busy for Him. Visit us today!

WHY I DON'T ATTEND CHURCH: EXCUSES CONFRONTED

BUT I'M NOT CATHOLIC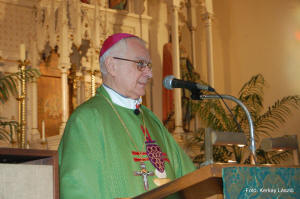 The chief marks of the Catholic Church are four: the Church is one, holy, universal, and apostolic. It is holy through Jesus Christ, the source of all holiness. All of the doctrines of the Church come from Christ. The Church is universal because all are accepted. The Church is not for one race or one group: the Church's purpose is to be the light and salvation of all peoples of the world. The Church is apostolic because it began with the apostles.
The Church accepts all people, regardless of religion, nationality, or creed. All one must have is a willingness to learn and understand, a want to worship with others, and a desire to accept Christ as Lord and Savior.


I DON'T BELIEVE

If a man were asleep in a burning building, he would be in more danger of losing his life than if he were awake. There is more danger of you losing your soul if you are unconcerned or do not believe than if you had only a hald-hearted interest. God Saves. He will take a hardened heart and create a new one. "Christ will give you light." (Eph. 5:14).

I AM NOT GOOD ENOUGH

The fact that you are a sinner assures you that you may be saved because Christ came to save sinners. If you forsake your sins and obey Christ, then you will be saved by the grace and mercy of God. He will forgive you. "For whoever calls upon the name of the Lord will be saved." (Romans 10:13). If you feel that you are not good enough, then come and rejoice in salvation. "If we confess our sins, He is faithful and forgives." (I John 1:9)

I AM A GOOD PERSON; I DON'T NEED CHURCH.

You may think this, but does God? Everyone needs help with their walk with Christ. "For all have sinned and come short of the glory of God." (Romans 3:23)

FREQUENTLY ASKED QUESTIONS

WHAT IS SIN & WHAT IS ORIGINAL SIN?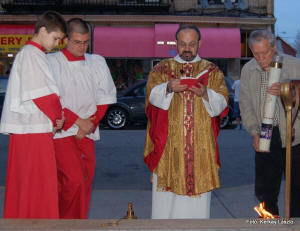 Every violation of God's Commandments or of the Church is a sin. There are 2 types of sin: mortal and venial. Mortal sin has three conditions: a serious matter, sufficient reflection, and full consent of the will. Motal sin deprives us of sactifying grace and brings eternal punishment to the soul, if we pass from this life to the next without confessing the sin and obtaining forgiveness. Venial sin does not deprive the soul of sanctifying grace and carries with it temporal punishment. It weakens the will and makes it difficult to resist temptation to mortal sin. We are all born with original sin because Adam and Eve disobeyed God. The gates of Heaven were closed to man as a result of original sin and this is why we must be saved and forgiven. Only Mary, the Mother of Christ, was free from original sin. She was born without original sin because she was to be the mother of our Lord, Jesus Christ.

HOW DO I KNOW CHRIST WAS THE SON OF GOD?

God loved man and loved man even though he had failed to honor His commands. Therefore, He promised man a Redeemer who would atone for the sins committed by Adam and Eve, thus reopening the doors of Heaven. We know that Jesus is the son of God because God told us. We find this written in the Bible. The Gospels tell us of Christ's birth and of His teachings. Christ's entire purpose for being born was to suffer and die so that He could redeem man. He fought sin by His example, prophecies, and miracles.

HOW DID CHRIST'S DEATH SAVE MAN?

Jesus Christ did not suffer and die on the cross as God, but as man. He did this in order to redeem man. Jesus was without sin. He died and shed his innocent blood in order to make pure the sinful blood of all mankind. He did this not only for those who loved and believed in Him, but also for those who hated and despised Him. He did it for everyone, including you and me. He made satisfaction for the sins of all human beings: for those who proceeded Him and those who followed Him. After His death, he ascended into Hell. The third day after He died, Christ arose from the dead. Forty days after His Resurrection, Christ ascended into Heaven, where He now waits to judge the living and the death.


WHAT IS THE LAST JUDGEMENT?

At the end of time, Christ will again come with great power to judge the world and to render to each according to their works. This judgement will be a manifestation and confirmation of the particular judgement that each person must submit to following death. Before the last judgement, all men will be resurrected with the same bodies that they had during life so that their bodies will share with them the same punishment of their souls. The last judgement will be the triumph of Christ over sin and evil. At this time, Satan, along with all evildoers, will be tossed into a pit of despair. Impenitent sinners will suffer eternal punishment; the saved will enjoy the vision and possession of God, eternal happiness.

WHY TAKE COMMUNION? WHY DOES THE CHURCH VIEW THE BREAD & WINE AS THE ACTUAL BODY & BLOOD OF CHRIST?

Believing in Jesus Christ, we should desire to receive Him in Holy Communion. St. Thomas Aquinas summed up the meaning of the Eucharist best. " Since it was the will of God's only-begotten Son that human beings should share in His Divinity, He assumed our nature in order that by becoming human He might [save man]... He offered His body to God the Father on the alter of the cross as a sacrifice for our reconcilitation. He shed His blood for our ransom and purification, so that we might be redeemed from... bondage and cleansed from all sin... He left His body as food and His blood as drink for the faithful to consume in the form of bread and wine." The Sacrament of Communion heals the soul and the body by taking away sin. Christ commanded us to remember Him and His sacrifice, and at the Last Supper told his diciples to eat the bread and drink the wine as if it were His body and blood, so that they could be redeemed. This practice is continued with the Sacrament of Communion.